Head and Shoulders Continuation Pattern
The head and shoulders pattern can signal a continuation rather than a reversal, although it appears in this role rather less. Fortunately, you are not likely to get them confused, because the head and shoulders continuation appears in a downtrend, and the inverse head and shoulders appears in an uptrend. Here is a bearish continuation pattern –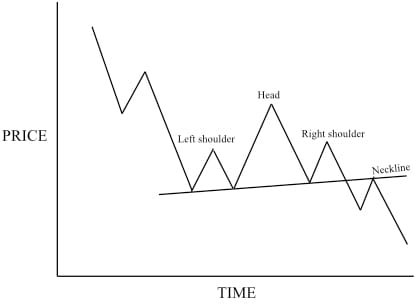 So even in this context, if you see a head and shoulders pattern the odds favor that it will be followed by a downtrend, just as with the reversal situation. The bullish continuation pattern is just the opposite –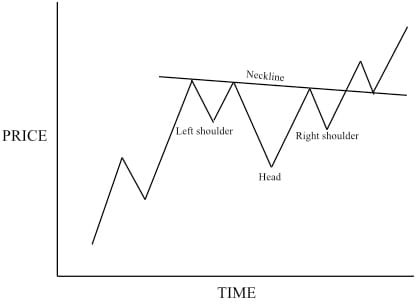 That completes our look at patterns. As you can see, they are understandable as merely reflections of the market sympathy – a shortcut to figuring out what the market is going through and how the participants are feeling. They are not magic, but they are valuable in giving you a rapid appreciation of the mood. You should always try to take account of the available information, such as the volume of trading, to verify your first impressions, and we'll come back to the question of confirmation of technical indications later.
Summary
For a reversal pattern to work, you must have a trend
The patterns shown are common ones seen at reversals
You should wait for the pattern to pass previous levels to confirm that it is valid
Continuation patterns represent resting places in the trend
You should look for other confirmation before trading on a pattern
At the end of each module there is a quiz. You can take a quiz at any point, but we suggest you view each module before taking the quiz. When you're ready to start the quiz, click the take quiz 'Start' button below -:
The Masters Certificate in Technical Analysis - Module 4
Questions – Module 4
Congratulations - you have completed The Masters Certificate in Technical Analysis - Module 4.
You scored %%SCORE%% out of %%TOTAL%%.
Your performance has been rated as %%RATING%%
Your answers are highlighted below.